June 9, 2015 - VOM FASS Presents "Summer Indulgence" A Month-Long Tasting Event
FOR IMMEDIATE RELEASE…
CONTACT: Callie Forkenbrock
All Points Public Relations
(847) 897-7490
June 9, 201
VOM FASS Presents "Summer Indulgence" A Month-Long Tasting Event
Internationally Acclaimed 'From the Cask' Specialty Retailer Celebrates Summer with Seasonal Epicurean Events
MADISON, Wis. – Nothing says summer like a little indulgence.
VOM FASS, the ultimate destination for epicurean connoisseurs, is savoring the world's finest oils, vinegars, and spices during a series of delectable summer tastings this June and July. Members of the community are invited to VOM FASS' European style tasting rooms for tantalizing summertime cooking and sampling events.
"Summertime is all about relaxed living, savoring each moment and enjoying unforgettable experiences with friends and family," said Justin Gibson, president of Madison, Wis.-based VOM FASS USA. "We want to celebrate the summer season with our loyal fans and make new ones by offering a series of unique, gourmet tastings."
The month-long event, entitled "Summer Indulgence," will highlight ways to tantalize and delight your senses this summer. At each event, attendees will enjoy decadent dishes and drinks prepared with signature VOM FASS products, such as the bright and zingy citrus Calamansi Balsam and the refreshing Pineapple Pear Basil Shrub. Additionally, the tastings will provide a relaxing environment for guests to learn the rich histories behind each artisanal product and signature recipes.
A complete schedule of the Summer Indulgence events that VOM FASS Houston – Rice Village will be hosting is listed below. Visit www.vomfasshouston.com for full details and pricing.
June 18 at 6pm - Simple Summer Mocktails, Sangria and Tempting Appetizers.

June 27 at 12pm - The Art & Simplicity of Making Ceviche - VOM FASS Style!

July 11 at 11am - Wood-fired Pizza with Pizzazz - A Parking Lot Party!

July 12 at 12pm: VOM FASS Ice Cream Social - For the Big & Small Kids Alike.

July 18 at 6pm: Wine, Cheese & Chocolate - Oh My! - A Fun, Casual Gathering.
About VOM FASS
VOM FASS is dedicated to helping taste explorers slow down and discover a world of flavor from their European style tasting rooms in nearly 30 cities across the country. These candy stores for connoisseurs showcase the world's finest oils, vinegars, wines and spirits. VOM FASS has roots in Germany, more than 100 awards from renowned institutes and over 20 years of experience in growing, tasting and testing the best collection of products that cannot be found elsewhere. The extended VOM FASS family of producers reaches into more than 20 countries, ensuring every product has a special story. For more information and to sample, sample, (and sample) the products available, visit http://www.vomfassusa.com and find a store near you.
###
---
May 19, 2015 - VOM FASS Houston - Rice Village announces an easier & more convenient way to shop
Shopping at VOM FASS just got easier & more convenient
We love Rice Village! However, we don't love the parking problems in the village. We have heard from many of our customers that you would visit more often if not for the parking issues.
Well, we listened and are happy to introduce an easier & more convenient way to shop, Express Curbside Delivery. It's simple…call ahead with your order and we will deliver it to your car when you arrive. You don't even have to get out!
________________________________________
Express Curbside Delivery - How it works.
________________________________________

1. Call (832) 742-6101 and place your new or refill order.
2. Notify the store associate of any coupons that you may have, then make payment using a credit card.
3. For refill customers, you will need to drop off your bottles at the shop. Just call us when you arrive in the parking lot and we will come to your car and get the bottles.
4. Inform the store associate of the approximate pickup time (please allow at least 2 hours).
5. Call the store when you are in the parking lot and we will deliver your order to your car. No need to park – just pull up in front of the store.
---
April 16, 2015 - VOM FASS Rice Village Owners Earn National Award
For Brian Moorhead building his own business has been a long and winding journey. The retired business development executive hung up his suit and traded it in for an apron, and a 1,000 square foot boutique spice, vinegar, and oil shop in Rice Village.
He had long wanted to venture out on his own and when he and his wife learned about the franchise opportunity with Vom Fass he was sold.
"Houston is a fantastic foodie town; there are a lot of restaurants, a lot of people that like to go out and eat and a lot of people that like to cook," said Moorhead.
Read the rest of the story here
---
March 5, 2015 - VOM FASS Rice Village Stocks Pantry at Recipe For Success Foundation
VOM FASS Houston - Rice Village is proud to be a Recipe for Success Foundation sponsor in support of their RecipeHouse programs. VOM FASS has stocked the pantry in the teaching kitchen with numerous culinary oils, real fruit vinegars and exquisite spice blends for use by Houston Chefs who lead dinners and classes at RecipeHouse.
---
December 10, 2014 - VOM FASS: A Playland of Oils, Vinegars and Spices
Thanks to Phaedra Cook with the Houston Press for taking time to visit VOM FASS Rice Village last week and blogging about our new shop.
VOM FASS, the new oil, vinegar and spice store at 2424 Times in Rice Village, is not huge but the well-organized space has a whole lot to offer. To the left is a triangular stack of barrels. To the right are bottles, jars, sets and dispensers of spices and spice blends. In the back right corner stand earthen jars glazed in dark purple.
Within the barrels are thick vinegars: fruit, several types of balsamic and even one made with beer. Some have been aged for years. The oldest balsamic pours slowly in a rivulet as viscous as honey.
The earthen jars conceal olive, nut and seed oils that hail from France, Italy and Greece. Some of the olive oils are infused with other ingredients, like garlic oil and citrus. Garlic oil is handy for sautéing vegetables and searing meats, and the orange-infused one would lend a bit of welcome brightness and pop to a salad.
Read the rest of the blog article here
---
November 18, 2014 - A Well-Oiled Shop Debuts in Rice Village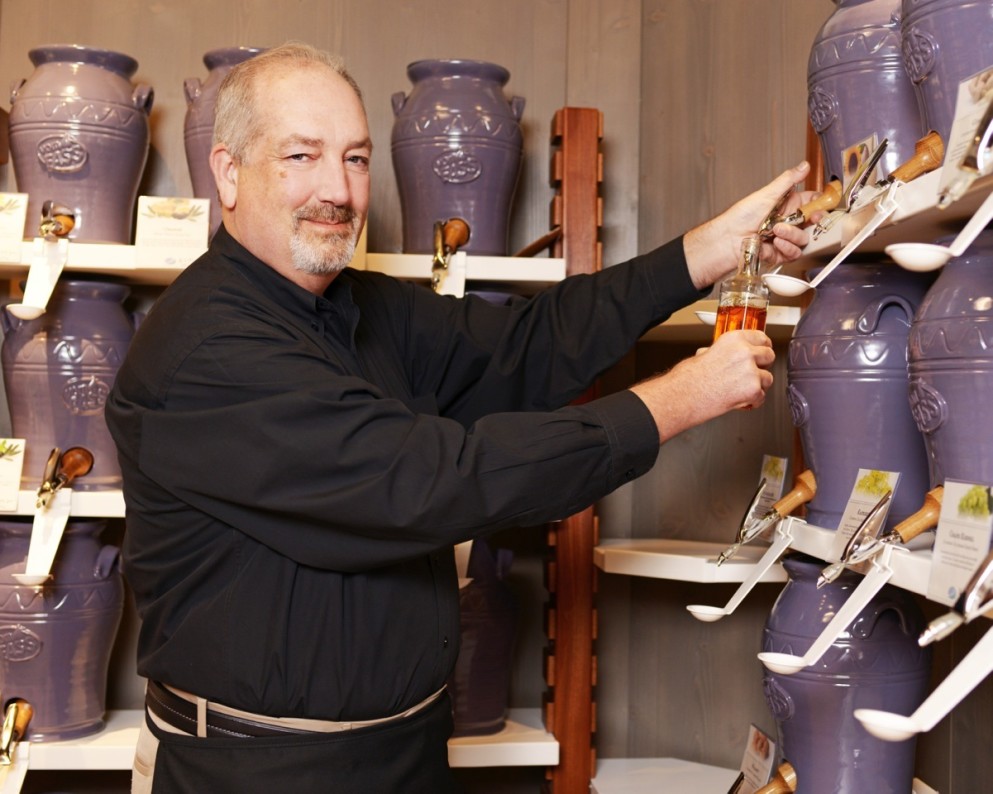 Germany's VOM FASS is your new go-to store for exceptional oil and vinegars.
The Houstonia Gastronaut wrote a superb article featuring VOM FASS Oils Vinegars Spices in Rice Village. The article was written by Natalie Harms.
Click Here to Read the Article in the Houstonia Gastronaut
---
November 5, 2014 - Foodie heaven? New Rice Village shop spices up city's food scene, competes with gourmet grocery stores
Check out the great article and video tour by Eric Sandler of Culture Map Houston.
Click Here for the Culture Map Houston Story
---
November 4, 2014 - VOM FASS, other specialty stores bring fresh take on oils, vinegars and spices
---
VOM FASS--FINE CULINARY OILS, VINEGARS AND SPICES--OPENS FIRST HOUSTON STORE IN RICE VILLAGE
The first VOM FASS ("From the Cask") store in Houston will open at 2424 Times Blvd. in Rice Village on November 1, offering Houston food lovers a unique selection of the finest artisanal oils, vinegars and spice blends. The oils and vinegars are made in small batches on European farms and immediately sealed in airtight containers and delivered to over 300 VOM FASS stores all over the world.
A number of the producers of these exceptional oils and vinegars have longstanding relationships with VOM FASS and sell only to VOM FASS. VOM FASS itself produces the award-winning fruit vinegars sold in the store, in the beautiful Upper Swabia region of Germany, near the Alps. VOM FASS spices come from all over the world and are mixed in piquant, unique blends according to family recipes.
Houstonians who are accustomed to the routine, uninspired versions of olive oils, vinegars, and spices on supermarket shelves will be amazed and delighted by the variety of superb flavors of these limited-edition products.
All of the vinegars and oils in the VOM FASS store, from the Sicilian Madonia Extra Virgin Olive Oil to the authentic classic balsamic vinegars from Modena and Reggio Emilia in northern Italy to the Apple Balsamic Star made by VOM FASS can be sampled directly from the cask in the store. After tasting, the customer selects the product and the amount he wants, and the oil or vinegar is then decanted into an elegant reusable bottle.
VOM FASS customer service staff will suggest ideal vinegar/oil pairings to customers, such as Calamansi Balsam and Lemon Extra Virgin Olive Oil for fish, Mango Balsam and Sesame Oil for Asian dishes, or Pomegranate Balsamic Vinegar and Pumpkin Seed Oil for salads. Recipe suggestions are provided for all products. The new VOM FASS store will also offer a range of unique gifting possibilities—from individual products to beautiful baskets containing a variety of vinegars, oils and spices. A grand opening, with chef appearances, special offers, and other events, is planned for later in November.
Houstonians Brian and Larita Moorhead will own and manage the Rice Village store. Brian Moorhead has over 20 years' experience in executive-level sales, business development, consumer and leadership marketing, and customer service experience in the multi-family residential real estate industry. He has also enjoyed experimenting with cooking in his home kitchen for many years. Larita Moorhead has over 25 years' experience in retail management and is currently regional manager for Paradise Pen Company covering Texas and Georgia stores.
VOM FASS products offer new, delicious taste sensations and the glories of a Mediterranean diet at its finest. Many of the VOM FASS oils provide additional health benefits, as well. A list of VOM FASS featured oils, vinegars and spices is attached.
Best of all, every visitor to the VOM FASS store will be able to sample all of the VOM FASS oils and vinegars directly "from the cask," experiencing a wide range of enchanting tastes never before available in Houston and then selecting their favorites to enjoy at home.
####
For additional information, contact
Patricia Bernstein, 713/838-8400, or
pbernstein@bernsteinandassoc.com
---
VOM FASS PRODUCTS "FROM THE CASK"
The range of products featured in the new Houston VOM FASS store will include:
A variety of Extra Virgin Olive Oils from Tuscany, other parts of Italy, Provence, Andalusia, Greece and Crete.
A selection of Italian Extra Virgin Olive Oils infused with basil, garlic, lemon, orange, tangerine, oregano, rosemary, white truffles, porcini and red peppers.
Nut and seed oils from France, including almond, hazelnut, pistachio and walnut oils. Many of these oils are said to improve skin texture, digestion, the healing of wounds, and offer other health benefits, in addition to delicious taste.
Other seed and kernel oils, including black cumin oil from Egypt, argan oil from Morocco, avocado oil from Ecuador, pumpkin seed oil from Austria, and evening primrose, flaxseed, grape seed, sunflower, wheat germ and wild rose oils from Germany. There are also sunflower oils infused with chilies and garlic and herbs, and a lightly toasted sesame oil infused with ginger.
A range of authentic, aged Balsamic Vinegars from Modena and Reggio Emilia, Italy.
A selection of fruit balsamic vinegars created at the worldwide headquarters of VOM FASS in Waldburg, Germany, near Lake Constance in southwestern Germany, one of Germany's most beautiful regions. Natural fruit juice concentrate is added to a fruit vinegar to create a fruitier and more harmonious flavor, balanced in acidity. VOM FASS fruit balsam vinegars include apple, calamansi (also known as the "Philippine lime"), cherry, grape, fig, honey, mango, pear, pomegranate, raspberry, quince, plum, blackcurrant, grape/ginger/lemon and beer solera ("solera" is a special aging process for alcoholic beverages).
Top-of-the-line Balsamic "Star" fruit condiments, produced by VOM FASS, include Apple Star, Date Star, Fig Star, Blueberry Star, Honey Star and Forest Raspberry Star.
Additional vinegars: Sherry Vinegar Riserva from Jerez, Spain; Vinagre Viejo de Montilla; Red Wine Vinegar from Bordeaux; Grape Vinegar from Champagne; and Herb Vinegar from Germany.
Fine spices and spice blends, including African Rub, Aromi per Insalata (the most popular salad seasoning), Asia Tandoori Masala, Chai Masala, Danish Smoked Salt, Chili Sea Salt, Cevapcici Spice (a mixture of onion, paprika and smoked paprika used in making traditional Balkan kebabs), Black Hawaiian Sea Salt, Basil-Citrus Salt, Herbes de Provence, Grains of Paradise (fine African peppercorns), Himalaya Salt (rose stone salt from the Punjab), Inca Pink Salt from Machu-Pichu, Madras Curry (with no salt), Miscela Napoletana, Muntok White Pearl (white pepper), Orange Pepper, Pink Berries (pink peppercorns), Panch Phoron (a Bengal herb blend of cumin, mustard seeds, black cumin, fenugreek seeds, fennel, celery and parsnips), Pesto alla Genovese, Pimento Grains (allspice), Porcini & Tartufi (a blend of porcini mushrooms and black summer truffles), and many, many more.
New products coming soon include Coffee Oil, Coconut Oil, Herbes de Provence Extra Virgin Olive Oil, and Balsamic Pearls. Balsamic Pearls are used as exquisite additions to cocktails, desserts, salads and many other dishes.
####
For additional information, contact
Patricia Bernstein, 713/838-8400, or
pbernstein@bernsteinandassoc.com
---
THE STORY OF VOM FASS IS TRULY "FROM THE CASK"
A Lucky Mistake
The story of VOM FASS ("From the Cask" in German) began in 1840 when Adrian Kiderlen, great-great grandfather of the current head of VOM FASS, began to produce wine and vinegar on his farm in the beautiful rural region of Upper Swabia, Germany, near the Alps. In the early 1960s, the Kiderlens, now headquartered in Waldburg, Germany, in the same region, began importing wine from the South Tyrol region of Italy. In 1985, the family purchased a wine business in Biberach, Germany, and began to sell bulk goods from the barrel.
The concept of "VOM FASS" actually resulted from a fortuitous mistake. Young Johannes Kiderlen, fresh from his study of beverage technologies at the University of Applied Science in Geisenheim, Germany, meant to order several thousand bottles of sherry wine but ordered bulk liters of sherry instead. He didn't want to throw away the valuable sherry so he filled old whiskey and wine casks with the wine and began to sell it "from the cask" in his beverage stores. Sales from the cask were so popular that Johannes recognized he had invented an intriguing new business concept.
First VOM FASS Store Opens
On March 23, 1994, 20 years ago, the first VOM FASS store, selling fine oils, vinegars, wines, liqueurs and spirits from the cask, opened in Regensburg, Germany. Additional stores followed very quickly in Aalen, Landshut and Nurnberg, Germany. Johannes franchised the VOM FASS concept and, over the following decade or so, VOM FASS stores opened in Austria, Switzerland, Italy, Great Britain, Belgium, France, Spain, Hungary, Croatia, Czech Republic, Denmark, Luxembourg, Latvia, Russia, Israel, the United Arab Emirates, Bahrain, Malaysia, The Philippines, Singapore, Thailand, Taiwan, Japan, Australia, Canada, Mexico and Brazil.
Family Producers, Strict Standards
From the beginning, Johannes Kiderlen maintained very close relationships with his suppliers, as his family had during their decades in the wine business. VOM FASS producers, often multi-generational family businesses like VOM FASS, must follow strict guidelines with an emphasis on careful cultivation and natural harvesting. VOM FASS watches over every aspect of production from land stewardship to growing conditions, maturation periods and extraction methods. As soon as the oils and vinegars are made, they are sealed in patented, airtight containers and shipped to VOM FASS stores around the world—thus preventing any deterioration from exposure to air and sunlight. VOM FASS itself produces the outstanding fruit vinegars that are featured in the stores, following the same painstaking procedures.
VOM FASS products have repeatedly won Superior Taste Awards from The International Taste & Quality Institute (iTQi), the world's leading organization dedicated to testing and promoting superior food and drink. The DLG, Germany's agriculture society, has also given VOM FASS many awards for extraordinary long-term efforts in producing and supporting the development of outstanding products.
VOM FASS Arrives in U.S.
VOM FASS' journey to the U.S. began in 2006, when a bright, 28-year old American named Justin Gibson, on a study-abroad program to earn an advanced degree in economics, wandered into a VOM FASS store in Giessen, Germany, looking for gifts to take home. His first taste of VOM FASS Aceto Balsamico di Modena Maletti Special Riserva (a very fine, classic balsamic vinegar) changed his life. "I couldn't imagine vinegar could taste like that," he declared afterwards. "It was phenomenal, amazing!"
Gibson brought a VOM FASS pamphlet with franchising information home to his father in Madison, Wisconsin, and said, "This is what we are going to do for the rest of our lives." The two decided to become the Master VOM FASS Franchiser in the United States. Today there are nearly 300 VOM FASS stores around the world with 26 open in the U.S. by the end of 2014, all in well-known, food-lover locations like San Francisco, Scottsdale, New Orleans—and Houston. VOM FASS USA was included in the 2014 Inc. Magazine list of the 5000 Fastest-Growing Private Companies in the U.S.
The Rice Village VOM FASS is the second VOM FASS store in Texas. The first Texas store is located in the Westlake Hills neighborhood of Austin.
###
For additional information, contact
Patricia Bernstein, 713/838-8400, or